Plant sunchokes late January to mid April and they will be ready to harvest October through March.

---
If you can't find Sun Chokes at your local store, they are usually sold at Ebay
and Amazon.
---
Nutrition Facts
Jerusalem Artichokes
(According to Wikipedia)
Amount Per 1 cup slices (150 g)
Calories 109 % Daily Value*
Total Fat 0 g 0%
Saturated fat 0 g 0%
Polyunsaturated fat 0 g
Monounsaturated fat 0 g
Cholesterol 0 mg 0%
Sodium 6 mg 0%
Potassium 643.5 mg 18%
Total Carbohydrate 26.2 g 9%
Dietary fiber 2.4 g 10%
Sugar 14.4 g
Protein 3 g
Vitamin A 1%
Calcium 2%
Vitamin D 0%
Vitamin B-12 0%
Vitamin C 10%
Iron 28%
Vitamin B-6 5%
Magnesium 6%
*Percent Daily Values are based on a 2,000 calorie diet. Your daily values may be higher or lower depending on your calorie needs.
---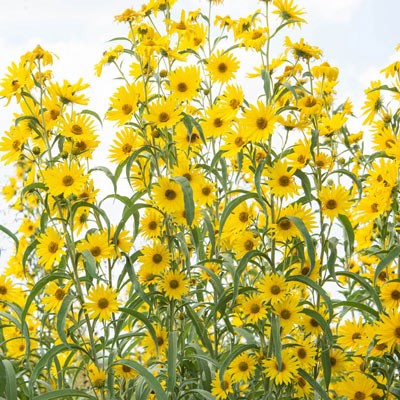 Not only can you eat them, but if you leave a few tubers in the ground they will produce a beautiful, multi-stemmed crop of sunflowers year after year. They can grow higher than 6 feet!
---


My story: The Magic and Unavoidable Misery of Sunchokes


---
Sunchoke Recipes
Early-season sunchokes are more tender and cook more quickly. As they move through the season, older 'chokes will get bigger and need more cooking time.
Sunchoke Fries
1 pound sunchokes (Jerusalem artichokes), scrubbed
1 tablespoon extra virgin olive oil
1 teaspoon sea salt
1/2 teaspoon fresh ground black pepper
1 tablespoon fresh chopped Italian or curled parsley

Preheat oven to 450°F
. Gently scrub the sunchokes with a potato brush
Chop into bite-sized pieces.
Toss in a bowl with olive oil, salt and pepper until coated.
Place onto a baking sheet and bake for 20-25 minutes, turning once, until the skin is slightly browned.
Sprinkle with fresh parsley, dried dill, rosemary, or sage.
---
Sunchoke Salad Sandwich (3 Sandwiches)
8-12 oz. cleaned scrubbed sunchokes
1 celery rib, diced fine
1/2 red bell pepper, diced fine
1/2 small red onion, diced fine
1 cup clean baby spinach leaves
1 red tomato, sliced into 6 slices, plus top and bottom trimming
"enough" mayonnaise or Vegan substitute - about 3 tablespoons or so.
salt and pepper to taste
6 slices whole grain bread

Scrub the sunchokes very well. No need to peel if the dirt has been removed. Grate the sunchokes into a medium bowl. Squeeze out the water. Add the celery, bell pepper, and onion. Mix well. Add mayonnaise and mix until the mixture is moist but not runny. Taste and adjust seasonings. Toast bread. Lay down a few spinach leaves on a slice of toast and spread the toast with a bit of mayo and the sandwich mix. Top with tomato and spinach.
---
Sunchoke Gratin: 4 servings
1 pound sunchokes (Jerusalem artichokes)
Salt
An oven-to-table baking dish
Butter for smearing and dotting the baking dish
Black pepper, ground fresh from the mill
1/4 cup freshly grated Parmigiano-Reggiano cheese

Preheat the oven to 400 degrees Fahrenheit.

Peel the sunchokes and drop them in salted, boiling water. Cook them until they feel tender, but not mushy when prodded with a fork. Ten minutes after the water returns to a boil, check them frequently because they tend to go from very firm to very soft in a brief span of time. Drain when done, and as soon as they are cool enough to handle, cut them into 1/2-inch slices.

Smear the bottom of a baking dish with butter, then place the sunchoke slices in it, arranging them so they overlap slightly, roof tile fashion. Sprinkle with salt, pepper, and the grated Parmesan, dot with butter and place the dish on the uppermost rack of the preheated oven. Bake until a light golden crust begins to form on top. Allow to settle for a few minutes out of the oven before serving.
---
Sunchoke Soup
2 tablespoons olive oil or butter
1 onion, chopped
1 pound Sunchokes (Jerusalem artichokes,) peeled, halved, and cut into 1/2 inch slices
1 pound carrots cut into 1/2 inch slices
1-3/4 teaspoons salt
2 cloves garlic, minced
1 zucchini, quartered lengthwise and cut crosswise into 1/2 inch slices
1 yellow squash, quartered lengthwise and cut crosswise into 1/2 inch slices
1-1/2 quarts canned low-sodium chicken broth or homemade stock
1-2/3 cups canned diced tomatoes with their juice (one 15 ounce can)
3 cups drained and rinsed canned cannellini beans (two 15 ounce cans)
1/2 cup chopped fresh parsley
1/4 teaspoon fresh-ground black pepper
Grated zest of 1/2 orange
In a large saucepan, heat the oil over moderate heat. Add the onion, carrots, and 1/2 teaspoon of the salt and cook, stirring occasionally, until the vegetables start to soften, about 5 minutes.

Add the garlic, zucchini, yellow squash, broth, tomatoes, and the remaining 1-1/4 teaspoons salt; bring to a simmer. Add the Sunchokes and return to a simmer. Then simmer, partially covered, until the vegetables are tender, about 10 minutes. Stir in the beans, parsley, pepper, and zest.
---
---
Sunchokes with Sweet Potato AuGratin - 6 Servings
1 tablespoon unsalted butter
1 leek thinly sliced
1/4 cup homemade dry bread crumbs
2 tablespoons grated gruyere cheese
1 pound Sunchokes, thinly sliced crosswise (no need to peel)
1 medium sweet potato, peeled and thinly sliced.
3/4 cup heavy cream
Preheat the oven to 350 degrees F.
Use 1 teaspoon of the butter to grease a 9-inch glass pie plate and a 12-inch square of foil.

In a medium skillet, melt 1 teaspoon. Add the leek and cook over moderately high heat until softened but still green, about 2 minutes. Transfer the leek to a plate.

Melt the remaining 1 teaspoon of butter in the skillet and add the bread crumbs.

Cook, stirring, until coated and lightly browned.

Transfer the crumbs to a plate and toss with the Gruyere cheese.

Layer half of the Sunchoke slices in the prepared pie plate and season with salt and pepper. Cover with half of the leek slices and half of the sweet potato slices, reserving the nicest slices for the top. Season with salt and pepper and repeat with the remaining sunshokes, leek and sweet potato. Pour the cream evenly over the top.

Cover with the foil, buttered side down, and bake for 30 minutes, or until bubbling and the vegetables are just tender. Remove the foil and bake for 20 minutes, or until lightly browned. Sprinkle the crumbs on top and bake for 20 minutes longer, or until golden. Let stand for 15 minutes before serving.
---
Sunchoke and Spinach Salad - 6 Servings
Recipe from www.bettycrocker.com

Lime-Yogurt Dressing
3/4 cup plain fat-free yogurt
3 tablespoons chopped fresh parsley
1/2 teaspoon grated lime peel
2 tablespoons lime juice
2 tablespoons red wine vinegar or cider vinegar
1/2 teaspoon salt
1/4 teaspoon pepper

Salad
2 cups shredded fresh spinach
1/2 cup finely chopped red onion
4 medium Jerusalem artichokes, peeled, finely chopped (1 cup)
2 medium carrots, chopped (1 cup)
1 small red bell pepper, chopped (1/2 cup)
2 cups shredded lettuce

1. In large bowl, mix all dressing ingredients with fork or wire whisk until well blended.
2. Add all salad ingredients except lettuce to dressing; toss. 3. Cover and refrigerate about 2 hours or until chilled. Serve salad on shredded lettuce.
---
Roasted Sunchokes: Serves 6-8

2 pounds sunchokes, scrubbed and cut into 1-inch pieces
3 tablespoons extra virgin olive oil
Kosher salt
Freshly ground black pepper

Preheat the oven to 400 F. Toss together the sunchokes and oil in a large bowl.

Season generously with salt and pepper.

Spread on a baking tray and roast for 35 to 40 minutes, or until tender and golden brown.

Transfer to a bowl and serve immediately.

For the best results, be sure not to overcrowd the pan.
---
Roasted Sunchokes and Herb Dip
1 lb sunchokes chopped
2 Tablespoons olive, avocado or algae oil
2 teaspoons sea salt to taste
1/2 cup of any creamy cheese
2 Tablespoons fresh lemon juice
2 Tablespoons of water
1/4 teaspoon coarse salt
1/4 teaspoon coarse-ground black pepper
Your Favorite Herb or Seasoning: Sage, rosemary, dill, chili pepper, onion powder, thyme.

Preheat the oven to 400F.
Cover a cookie sheet with parchment, a nonstick pad, or a lightly greased piece of tinfoil. Set aside.

In a large bowl, toss the chopped sunchokes with the oil to coat.

Spread them evenly on the cookie sheet and sprinkle with sea salt.

Roast for 25 minutes, or until tender.

Let the sunchokes cool slightly before transferring them to a food processor. Pulse a few times to chop them into smaller pieces.

Add the cheese, lemon juice, water, salt, pepper and herb or seasoning and process until smooth.

Adjust seasonings to taste before serving.

Store leftovers in an airtight container in the fridge for up to 10 days.
---
Sunchoke Pickles
2 pounds sunchokes
6 cups water
2 cups white vinegar
2 tablespoons coarse salt
2 dried chili peppers
2 teaspoons coriander seeds
3 bay leaves
1 bunch thyme

Wash and peel sunchokes if you want, but they don't need to be peeled.

Cut into 14-inch sticks.

In a non-reactive pot, bring water and vinegar to a boil. Add all other ingredients to this and simmer about 3 to 5 minutes.

Remove pot from heat and let it cool naturally, then put in containers.

Pickled sunchokes will last a couple of weeks or a little more.
---
Carmelized Sunchokes
1 tablespoon olive oil
1 tablespoon butter
1 tablespoon sugar
3 tablespoons water
1-1/2 pounds sunchokes (Jerusalem artichokes), cut into 1/2-inch pieces
Sea salt and black pepper, to taste
1 teaspoon finely grated Meyer lemon zest
Finely chopped Italian parsley

Heat oil and butter in a saute pan over medium heat.

Whisk in sugar. As soon as the sugar melts, take the pan off the heat and carefully whisk in the water (mixture will splatter a bit).

Immediately add sunchokes to pan, tossing to coat.

Return pan to heat, cover, and cook 10 minutes, tossing occasionally, until sunchokes are nearly tender.

Uncover, increase heat to medium-high, and saute sunchokes 5 minutes or until tender.

Toss the sunchokes frequently with a wide spatula so the sunchokes brown nicely but don't burn.

Season to taste with salt and pepper.

Transfer to a serving dish.

Sprinkle with lemon zest and parsley.
---
ASTROLOGY COOKBOOKS