HOME / GEMINI
GEMINI AND FOOD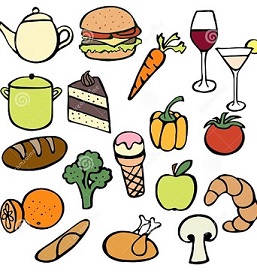 Gemini - I'll Take a Little of Everything
May 20th - June 21st
Gemini meals often consist of snacks throughout the day. Like a butterfly sampling one flower after another, so does Gemini. At a restaurant, you'll find Gemini ordering a variety of appetizers and hors d'oevers instead of a main entree. Geminis will be curious to try new dishes - variety is what they crave. A different entree at every meal or the meal must offer at least a few different textures and flavors in every bite.

Geminis rarely give their full attention to eating. They are multi-taskers and can be seen reading the paper while eating, watching tv, and most typically, walking around the house with fork and dish in hand. This type of mobile eating is also a Sagittarius trait. But while Sagittarius has a determined plan, Gemini walks around rather aimlessly from kitchen counter to dining room table to couch to sitting on the front porch.

A mental sign such as Gemini, Libra, or Aquarius requires oxygenating foods like fresh fruits and vegetables. Gemini benefits through orange-coloured foods like oranges, pink grapefruit, peaches, apricots, etc., which help decongest the lungs and prevent mucus.

Avoid milk which produces mucus. Eat plenty of potassium-based foods like bananas and avoid salt. Do not eat heavily before bedtime. Pay careful attention to the breathing, which should be regular and deep. Get lots of fresh air to avoid sore throats, as well as plenty of water to prevent accumulation of mucus.

Carrot juice is the vegetable drink of choice. Lentils are the beans of choice. Recuperation comes through mental relaxation and change of scenery.

The Little Book of Self-Care for Gemini
Simple Ways to Refresh and Restore
ASTROLOGY COOKBOOKS
Gemini Recipes and Ingredients
Appetizers
Apricots
Broccoli
Cauliflower
Chicken
Eggs
Grains and Multigrains
Pomegranates
Popcorn

- More recipes coming up:
Celery
Green Beans
Kabobs
Mint
Sushi
Peanuts
Pizza
Rocky Road
Sesame
Vanilla

THE MIXOLOGY OF ASTROLOGY:
Cosmic Cocktail Recipes for Every Sign

SEXY STAR SIGN COOKING
An Astrology Cookbook for Lovers

THE ZODIAC COOKS
Recipes from the Celestial Kitchen of Life