HOME / CANCER
CANCER AND FOOD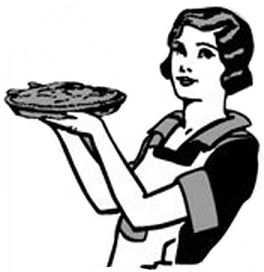 Cancer - Just Like Mom Made It
June 21st - July 22nd
Cancers live for their sacred C's - cooking, comfort, and chocolate.
Cancers, like Taurus', likes to curb their hunger with lots of comfort foods. But Cancers are particularly fond of sweets and ice-cream. Many Cancers have a tendency to gain weight and are often pleasantly plump with baby fat. They tend to eat fast and furiously,too, as if someone else might get their share of the goodies.
Although Cancers are often found in professional and executive positions, they still find time to cook at home. If you have a Cancer boss, find out their favorite sweets for an occasional surprise and to perk them up when they're crabby - and they can get snippy out of the blue. Even they won't know why a cranky spell suddenly came over them. Maybe the moon changed signs that moment or something triggered an unhappy memory. Cancers may appear to be all business all the time, but watch their entire demeanor change when you offer them something tangible, especially food.
Cancers fondly remember recipes they had as children and will lovingly pass them on to their children with a story behind each one. "This is the lasagna that Lucy always asked for when she visited." Or, "Remember when these fritters slipped onto Uncle Bob's lap at Grandma's house?" Cancers will remember almost everything that revolves around food.

The Little Book of Self-Care for Cancer
Simple Ways to Refresh and Restore
---
ASTROLOGY COOKBOOKS
Recipes and Ingredients for Cancer
Cabbage
Cheese
Coconut
Cucumbers
Dark Chocolate
Eggs
Lemon
Milk Steamers, Drinks, Soups
Potato
Pumpkin
More recipes coming up for Cancers:
Cake
Cinnamon
Crab
Cream
Flour
Grapes
Horseradish
Jams and Jellies
Lettuce
Lobster
Sage
Shrimp
Thyme
Turnip
Vanilla
Watermelon

THE MIXOLOGY OF ASTROLOGY:
Cosmic Cocktail Recipes for Every Sign

SEXY STAR SIGN COOKING
An Astrology Cookbook for Lovers

THE ZODIAC COOKS
Recipes from the Celestial Kitchen of Life