Creating a Last-Minute Thanksgiving Centerpiece to Remember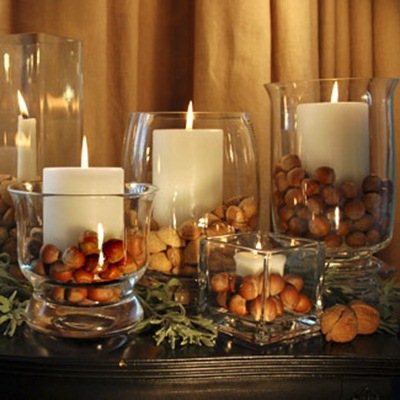 Thanksgiving Day hosts are often so preoccupied with preparing the best and most flavorful meals of the year that they often forget about other aspects of the Thanksgiving theme. Namely, centerpieces have been a big cornerstone of Thanksgiving displays on dinner tables across the country for generations, and without the right centerpiece, the festive atmosphere may be lacking just a bit.
OK, so no one's honestly going to complain when there's a piping hot turkey on the table and endless rows of delicious side items, but this extra touch can make for a wonderful memory of a specific holiday.
If you need to throw together a last-minute centerpiece to bring the table display together, don't panic! With a few creative tips, you can put one together in just a few minutes.
Start by looking around your house for useful items. These should be things that have a pleasant or unique look to them, and won't cause any problems when temporarily removed from their normal spaces in the house.
If you're the kind of renter or homeowner who puts silk plants out during the spring and summer months but stacks them in the closet during the fall, you should use them.
Silk flowers and other plants can be manipulated in many ways without damaging them (unlike with real plants), and they add that nature vibe that's essential to the Thanksgiving tradition. If you have some real flowers available, feel free to use them too.
Beads, decorative place-mats, and other arts and crafts supplies can be useful too, just try to avoid anything with glitter since you won't have hours to devote to that kind of mess (and there WILL be a mess if you use glitter).
If there's anything old that you won't use anymore, such as dated place-mats, you can always take a set of crafting scissors and cut out some unique shapes with them. Turkeys or pilgrim hats, for instance?
How you put together all of these disparate pieces is up to you. But for one last, major tip: Don't worry about making it look perfect. The centerpiece at the table should almost be homely in design. There's that essence of homemade quality to a slightly imperfect Thanksgiving centerpiece.
So long as you contributed things that mattered to you into the piece, it should be just the thing you need to center the meal around at the dinner table come eating time.
---
ASTROLOGY COOKBOOKS