HOME / BASIL RECIPES
To Print out only the Recipe
- Highlight it with your mouse
- Right click on the highlighted recipe.
- Choose the option PRINT.
- Change the Pages/Print from ALL to SELECTION.
- Press the PRINT button.
Basil Recipes
Basil Butter
1/2 cup butter, softened
1 clove garlic, chopped fine
1 handful fresh basil, shredded

Blend ingredients together well. Shape into a log, wrap in plastic wrap and refrigerate. Use on breads, veggies, pasta, or for basting poultry.
---
Basil Vegetable Soup
6 green onions, ends trimmed
1 clove garlic, minced or pressed
1 tablespoon olive oil
6 cups fat-skimmed vegetable or chicken broth
3/4 pound yellow or green zucchini or crookneck squash, ends trimmed, sliced thin
1 (7 ounce) jar roasted red peppers, coarsely chopped
1 pound Roma tomatoes, cored and chopped
1/4 cup chopped fresh basil
2 tablespoons balsamic vinegar
3/4 cup shredded Parmesan cheese

1. Slice green tops of onions and set aside. Chop white part of onions; put in a 5- to 6-quart pan with garlic and oil. Stir over medium-high heat until onions are limp, about 3 minutes.
2. Add broth to pan, cover, and bring to boiling over high heat. Stir zucchini, peppers, and tomatoes into broth; reduce heat, cover, and simmer until zucchini is tender when pierced, about 5 minutes.
3. Stir in reserved green onion tops, basil, and vinegar. Ladle into bowls and add parmesan to taste.
---
Basil Shrimp - Serves 9
This mixture of basil, lemon juice, mustard and garlic adds a wonderful texture and flavor to grilled shrimp. You won't want to prepare them any other way.

Ingredients:
2 1/2 tablespoons olive oil
1/4 cup butter, melted
1 1/2 lemons, juiced
3 tablespoons brown mustard
1/2 cup minced fresh basil
3 cloves garlic, minced
salt to taste
white pepper
3 pounds fresh shrimp, peeled and deveined skewers

Directions:
1. In a shallow, non-porous dish or bowl, mix together olive oil and melted butter. Stir in lemon juice, mustard, basil, and garlic, and season with salt and white pepper. Add shrimp, and toss to coat. Cover, and refrigerate for 1 hour.

2. Preheat grill to high heat. Remove shrimp from marinade, and thread onto skewers. Discard marinade.

3. Lightly oil grill grate, and arrange skewers on preheated grill. Cook for 4 minutes, turning once, or until opaque.

Nutrition Info: - Calories: 209, Total Fat: 10.3g, Cholesterol: 244mg, Sodium: 440mg, Total Carbohydrates: 2.6g.
---
Basil, Roasted Peppers and Monterey Jack Cornbread - Serves 12
This cornbread is loaded with extras. Onion, pepper-jack cheese, corn, basil and roasted red peppers make this savory bread dense and delicious.

Ingredients:
1/2 cup unsalted butter, chilled and cubed
1 cup chopped onion
1 3/4 cups cornmeal
1 1/4 cups all-purpose flour
1/4 cup white sugar
1 tablespoon baking powder
1 1/2 teaspoons salt
1/2 teaspoon baking soda
1 1/2 cups buttermilk
3 eggs
1 1/2 cups shredded pepperjack cheese
1 1/3 cups frozen corn kernels, thawed and drained
2 ounces roasted marinated red bell peppers, drained and chopped
1/2 cup chopped fresh basil

Directions
1. Preheat oven to 400 degrees F (205 degrees C). Butter a 9x9x2 inch baking pan.

2. Melt 1 tablespoon butter in medium nonstick skillet over medium-low heat. Add onion and saute until tender, about 10 minutes. Cool.

3. Mix cornmeal with the flour, baking powder, sugar, salt, and baking soda in large bowl. Add 7 tablespoons butter and rub with fingertips until mixture resembles coarse meal.

4. Whisk buttermilk and eggs in medium bowl to blend. Add buttermilk mixture to dry ingredients and stir until blended. Mix in cheese, corn, red peppers, basil, and onion. Transfer to prepared pan.

5. Bake cornbread until golden and tester inserted comes out clean, about 45 minutes. Cool 20 minutes in pan. Cut cornbread into squares.

Nutrition Info - Calories: 314, Total Fat: 15.4g, Cholesterol: 93mg, Sodium: 632mg, Total Carbohydrates: 35.5g, Dietary Fiber: 2.5g, Protein: 10.3g
---
Basil Cream Chicken - Servings: 4
Breaded chicken is served in a pool of Parmesan cream, accented with pimentos and fresh basil.

Ingredients:
1/4 cup milk
1/4 cup bread crumbs
1 pound skinless, boneless chicken breast halves
3 tablespoons butter
1/2 cup chicken broth
1 cup heavy whipping cream
1 (4 ounce) jar sliced pimento peppers, drained
1/2 cup grated Parmesan cheese
1/4 cup chopped fresh basil
1/8 teaspoon ground black pepper

Directions:
1. Place milk and breadcrumbs in separate shallow bowls. Dip chicken in the milk, then coat with breadcrumbs. In a skillet over medium heat, fry chicken in butter or margarine, on both sides, until the juices run clear. Remove from skillet and keep warm.

2. Add the broth to the skillet; bring to a boil over medium heat. Stir to loosen browned bits from pan. Stir in the cream and pimentos; boil and stir for one minute. Reduce heat; add the Parmesan cheese, basil and black pepper. Simmer and stir until heated through. To serve, pour the sauce over the chicken.

Nutrition Info: Calories: 509, Total Fat: 36.8g, Cholesterol: 182mg, Sodium: 612mg, Total Carbohydrates: 9.5g, Dietary Fiber: 0.8g, Protein: 34.7g
---
BLT Salad with Basil Mayo Dressing - Serves 4
Crispy romaine lettuce, juicy cherry tomatoes, crunchy-fried bacon and homemade croutons are tossed with a creamy, tangy, fresh basil infused dressing in this satisfying salad!

Ingredients:
1/2 pound bacon
1/2 cup mayonnaise
2 tablespoons red wine vinegar
1/4 cup finely chopped fresh basil
4 slices French bread, cut into 1/2 inch pieces
1 teaspoon salt
1 teaspoon ground black pepper
1 tablespoon canola oil
1 pound romaine lettuce - rinsed, dried, and torn into bite-size pieces
1 pint cherry tomatoes, quartered

Directions:
1. Place bacon in a large, deep skillet. Cook over medium high heat until evenly brown. Drain, crumble and set aside, reserving 2 tablespoons of the drippings.

2. In a small bowl, whisk together the reserved bacon drippings, mayonnaise, vinegar and basil and let dressing stand, covered, at room temperature.

3. In a large skillet over medium heat, toss the bread pieces with the salt and pepper. Drizzle with the oil, continue tossing and cook over medium-low heat until golden brown.

4. In a large bowl mix together the romaine, tomatoes, bacon and croutons. Pour the dressing over the salad and toss well.

Nutrition Info: Calories: 648, Total Fat: 59.2g, Cholesterol: 54mg, Sodium: 1320mg, Total Carbohydrates: 20.9g, Dietary Fiber: 3.7g, Protein: 10g
---
Basil Pesto Sunshine Sandwich - Serves 1
This is a sandwich you'll never forget. Two kinds of pesto are spread on focaccia, which is then piled high with roasted red peppers, feta cheese and basil.

Ingredients:
1 slice focaccia bread, cut in half horizontally
1 tablespoon mayonnaise
2 teaspoons basil pesto
2 tablespoons sun-dried tomato pesto
1/4 cup roasted red peppers
1/2 cup crumbled feta cheese
1/2 cup fresh basil leaves

Directions:
1. In a small bowl, mix together mayonnaise and basil pesto; spread onto one half of bread. Spread other half with sun-dried tomato pesto. Arrange roasted red peppers on bottom piece. Cover with feta cheese, then fresh basil. Top with remaining slice of bread.

Nutrition Info: Calories: 721, Total Fat: 50.2g, Cholesterol: 124mg, Sodium: 2127mg, Total Carbohydrates: 40.9g, Dietary Fiber: 3.5g, Protein: 26.9g
---
Basil Pesto Bread - Servings: 16
At a recent party our friends went wild over this. A simple pesto is spread on Italian bread and layered with roma tomatoes and cheese. It takes a little time, but it is worth it. I freeze the basil in ice cube trays, then put the cubes in freezer bags. You can easily take out and thaw what you need. Enjoy!

Ingredients:
3 cups fresh basil leaves
1/2 cup olive oil
2 cloves garlic, peeled
1/4 cup toasted pine nuts
1/4 cup grated Parmesan cheese
1 (1 pound) loaf Italian bread
3 roma (plum) tomatoes, thinly sliced
1 (8 ounce) package mozzarella cheese, sliced

Directions:
1. In a blender or food processor, puree the basil leaves, olive oil and garlic. Mix in the pine nuts and Parmesan cheese. Continue processing until desired consistency is reached.

2. Preheat the broiler.

3. Slice Italian bread to desired thickness. Spread a layer of pesto on each slice. Top with roma (plum) tomatoes and mozzarella cheese.

4. Place topped bread slices in a single layer on a large baking sheet. Broil 5 minutes, or until cheese is bubbly and lightly browned.

Nutrition Info: Calories: 196, Total Fat: 11.6g, Cholesterol: 9mg, Sodium: 262mg, Total Carbohydrates: 15.9g, Dietary Fiber: 1.3g, Protein: 7.4g
The Health Benefits of Basil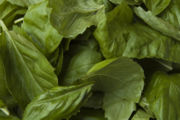 Research studies on basil have shown unique health-protecting effects in two basic areas: basil's flavonoids and volatile oils.

DNA Protection Plus Anti-Bacterial Properties

The active constituents called flavonoids found in basil provide protection at the cellular level. Orientin and vicenin are two water-soluble flavonoids that have been of particular interest in basil, and in studies on human white blood cells; these components of basil protect cell structures as well as chromosomes from radiation and oxygen-based damage.

Also, basil has been shown to provide protection against unwanted bacterial growth. These "anti-bacterial" properties of basil are associated with its volatile oils, which contain estragole, linalool, cineole, eugenol, sabinene, myrcene, and limonene. Lab studies show that basil restricts growth of numerous bacteria, including Listeria monocytogenes, Staphylococcus aureus, Escherichia coli O:157:H7, Yersinia enterocolitica, and Pseudomonas aeruginosa.

Adding fresh thyme and/or basil to your next vinaigrette will not only enhance the flavor of your fresh greens, but will help ensure that the fresh produce you consume is safe to eat.

Anti-Inflammatory Effects The enzyme-inhibiting effect of eugenol in basil qualifies basil as an "anti-inflammatory" food that can provide important healing benefits along with symptomatic relief for individuals with inflammatory health problems like rheumatoid arthritis or inflammatory bowel conditions.

Cardiovascular Health
Basil is a very good source of vitamin A (through its concentration of carotenoids such as beta-carotene). Called "pro-vitamin A," since it can be converted into vitamin A, beta-carotene is a more powerful anti-oxidant than vitamin A and not only protects epithelial cells (the cells that form the lining of numerous body structures including the blood vessels) from free radical damage, but also helps prevent free radicals from oxidizing cholesterol in the blood stream. Only after it has been oxidized does cholesterol build up in blood vessel walls, initiating the development of atherosclerosis, whose end result can be a heart attack or stroke.

The beta-carotene found in basil may help to lessen the progression of these conditions while protecting cells from further damage.

Basil is also a good source of magnesium, which promotes cardiovascular health by prompting muscles and blood vessels to relax, thus improving blood flow and lessening the risk of irregular heart rhythms or a spasming of the heart muscle or a blood vessel.

Basil is also a very good source of iron, calcium, potassium, and vitamin C.
---
ASTROLOGY COOKBOOKS
Recipes may also be provided by :
LIFE EXTENSION


BISTRO MD
Voted best tasting diet program! Pick your meals and save today!

WEIGHT WATCHERS

STARWEST BOTANICALS
Bulk herbs, spices and natural products.

SIZZLEFISH SEAFOOD
List as one of the best places to buy fresh seafood online at CNET, SubscriberBoxer.com, and TopConsumerReviews.org. All shipping is free.







The COOKS TAROT

THE MIXOLOGY OF ASTROLOGY:
Cosmic Cocktail Recipes for Every Sign

SEXY STAR SIGN COOKING
An Astrology Cookbook for Lovers

THE ZODIAC COOKS
Recipes from the Celestial Kitchen of Life
---
Online Courses